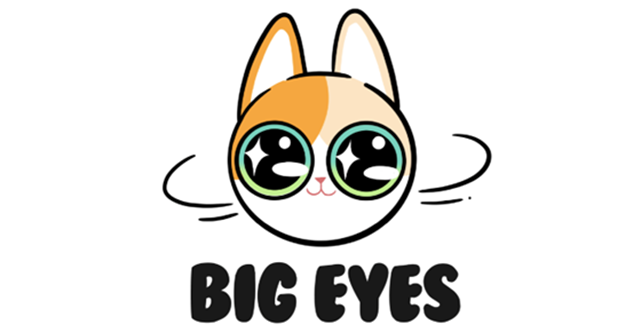 Cryptocurrencies have one major thing in common: they are built on the Blockchain. However, every cryptocurrency is unique and offers different features to users. While some cater to the needs of individual users, others cater to enterprise-level clients.
In general, they all provide top-notch services, and by doing so, they improve on and push the adoption of blockchain technology. Here are three cryptocurrencies that buyers are on the lookout for with amazing features: Big Eyes Coin (BIG), Internet Computer (ICP), and Dogecoin (DOGE).
Big Eyes Coin (BIG): The Highly Anticipated Community Token
Big Eyes Coin (BIG) is a new meme token in the race to the top of the meme coin market. The token has gathered a lot of excitement over the past few months since its introduction to the crypto community. Big Eyes Coin (BIG) is a timely community token with big plans to shift wealth into the DeFi ecosystem.
Big Eyes Coin (BIG) is based on an anime-styled image of a cat with large eyes and is different from other meme coins because it has a stated purpose. The Network's native token, BIG, will not be subject to taxes of any kind, and holders of the token will be allowed to participate in the governance of the network.
The Big Eyes Coin (BIG) ecosystem will have Non-Fungible Tokens (NFTs) as an integral part of its decentralized environment. From an NFT Club to an NFT marketplace, users will be able to derive value from this popular Blockchain asset.
The ecosystem will have its own NFTs, which will be subject to a dynamic tax of 10%, with 1% of that going to a Visible Charity Wallet. This charity wallet will be dedicated to ocean cleanup and preservation projects.
Internet Computer (ICP): A Multifunctional Third-generation Network
Internet Computer (ICP) is the first decentralized network with an unlimited capacity and provides public internet services. The Blockchain-based network also allows users to host back-end software and share their open-source frameworks on the Internet without depending on tech giants such as Amazon and Facebook.
The project was not just created to compete with first-generation projects such as Bitcoin but to decentralize the web by leveraging Blockchain technology. The network, which is now among the top ten cryptocurrencies in the world, runs through a Network Nervous System (NNS), an algorithmic governance system.
The Network Nervous System (NNS) fulfills a wide range of roles on the Internet Computer (ICP) protocol, including monitoring node machines for faulty behavior and generating new ICP tokens for reward purposes. This system is managed by nodes (users) that create applications, also known as Subnets, that execute special smart contracts called canisters. Subnets are mainly responsible for hosting different subsets of the canisters on the Internet Computer (ICP) network. The ICP token is considered one of the fastest cryptocurrencies in terms of transactions.
Dogecoin (DOGE): Sparking The Meme Coin Movement
Dogecoin (DOGE) is a cryptocurrency created as a result of an early hard fork from the Bitcoin (BTC) Blockchain. Created at a time when there were no smart contracts or any of the new features available on Blockchain networks today, the meme cryptocurrency token functions primarily as a payment token.
Dogecoin (DOGE) started as a joke but was later developed to improve Bitcoin's design, including increased block size and block time. The Dogecoin (DOGE) network has a security setup that includes diggers (miners) that validate transaction blocks and receive rewards.
The network uses a scrypt technology in its Proof-of-Work (PoW) consensus mechanism, and the DOGE token can be mined using FPGA and ASIC devices. The token has an unlimited supply and the network developers issue 5 billion new tokens every year.
Dogecoin (DOGE) is one of the few tokens with a tight-knit community of users and this community has been involved in many charity projects, making it one of the most liked cryptocurrencies in the market.

To find out more about Big Eyes Coin (BIG), visit the links below:
Presale: https://buy.bigeyes.space/
Website: https://bigeyes.space/
Telegram: https://t.me/BIGEYESOFFICIAL
Disclaimer: This is a paid release. The statements, views and opinions expressed in this column are solely those of the content provider and do not necessarily represent those of Bitcoinist. Bitcoinist does not guarantee the accuracy or timeliness of information available in such content. Do your research and invest at your own risk.